Here is the first installment in the Josefina Unit Study series. For our first step, I have decided to focus on "Faith" since that is what drew me to doing a unit study on Josefina in the first place.
I have always wanted to have a family prayer chapel, our home just didn't lend itself to that type of space. However, after reading The Little Oratory, I realize that it isn't the grandeur, but the presence and use of a prayer area that is important. I am working on formulating where our very little oratory will be and gathering items to create it as a focus of prayer. Even if you have not read The Little Oratory, although I hope you do, you can create a spot for family prayer within your home. Josefina began each day with her family, offering prayers to God.
My oratory is just a small shelf, I recently found a white linen napkin at the thrift store to use as my linens. I am now working on gathering some religious articles throughout the house to place on the shelf for our oratory. You can see example of different types of oratories on the link-up page.
I will post pictures of my own once it is together.
II. Morning Prayer Routine
You may already have a routine, but this is something that I really took away from the Joesfina series. The entire rancho stopped each morning to offer their day to God. While we always strive to pray before school begins, to be honest it hasn't become a concrete routine. In building the oratory, I am also looking to build the routine of prayer that will center there. As a family, put together a simple liturgy to begin your day. It does not have to be long or complicated, the point is that you do it and do it every day.
My own prayer routine for our family so far includes A Morning Offering, a hymn, a psalm, the St Michael prayer, and an additional prayer correlating to the season, feast day, or monthly dedication.
III. Our Lady of Guadalupe
While Our Lady of Guadalupe is not specifically mentioned in the Josefina books, she is the catalyst for the deep roots of Mexican Catholicism. So, a study of her appearance and message is essential in understanding the faith of Josefina and her family.
Here are the books and resources I plan to use:
available from the Catholic Company
also available at
the Catholic Company
from
Christianbook.com

which I found from our local library, but is also available
here
.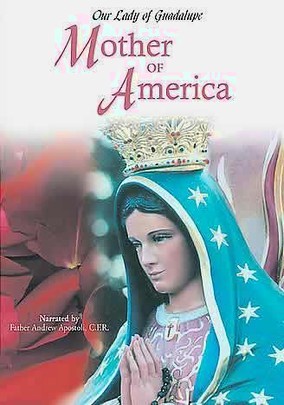 and this movie available at Netflix.
Here are some activities to do for this part of the unit:
This is my favorite new find! We celebrate the feast of Our Lady of Guadalupe every year, so I am always looking for new activities and crafts. These are adorable!!
Paper Dali has a beautiful collection of printables as well.
Of course, Jessica has a wonderful plan for a fiesta for Our Lady of Guadalupe that ties in all the symbolism of the miraculous image and story of the apparition.
Lastly, I plan to make miniature shrines with the kids, perhaps from Altoid boxes that are reminiscent of the miniature shrines found in Mexico.
The art of creating Santos came from the prohibitive cost and effort it would require to bring statues and other sacred art to the Americas when early missionaries came. Instead, missionaries sought out local artisans to create representations of the faith and saints in native materials and styles. The santos are carved from wood, then painted, and often dressed in elaborate clothes sewn from fine fabrics. Thus a new form of sacred art was born. Santos are often processed through the streets on large platforms decorated with colorful flowers and ribbons. Now, I am not a skilled wood carver, but I want to have the children create saints that can be used in our oratory as part of this study. I decided to use Jennifer at Catholic Inspired's design for the dressed peg dolls. I hope to add some lace and gold to make them look more Mexican. These dolls are easy to make, though, and always turn out so nice (although not as nice as hers)! We have made several over the years.
While I do not plan on spending too much time learning Spanish during this unit, I do hope the children learn a few new words in the language. The Diocese of Little Rock has a wonderful list of common prayers in Spanish. My plan is to have the children learn the Guardian Angel prayer, mostly because it is nice and short. If they are motivated, we may learn the Ave Maria (Hail Mary) as well.
There is not much discussion of the mantilla in the Josefina books, although it is mentioned that she wears one at Christmas and American Girl sells an outfit that includes a traditional mantilla.
I have not been able to find an explanation of the matilla for children. So, i am going to come up with my own. Sometime by next week, I will post my mantilla lesson. It will be brief and child friendly, but still explain the devotion well.
As a final project for this part of the unit study, we are going to make a mantilla for Cowgirl's dolls. Now she does not have a full sized Josefina doll, so I am developing a pattern for a mini-doll one as well as a full sized doll mantilla. Please stay tuned. I will have that project posted next week.
Anyone have any other ideas for sharing our faith by studying Josefina's history, story, and culture?